What is a Makerspace?
A Makerspace is a learning and creating workshop where anyone can make amazing and unique things!  We supply the equipment and instruction on how to use it, and you supply the inspiration.
  What kinds of projects are best suited to the Makerspace?
   The Louisville Library Makerspace is excellent for projects that are unique, custom or personalized. 
   Here are some actual examples:
Need a replacement foot for your old patio table?  Bring it in, and we'll help you create a new one on our 3D printers.
Laser engrave dad's photo on that beautiful piece of cherry he never got around to using in his woodshop.
Tired of coworkers stealing your favorite coffee mug? Sublimation print a special message just for them.
Big Harry Potter fan? Print a wand rack on our 3D printers, make yourself a house shirt, or etch your favorite Dumbledore quote on a glass bottle.
How does the Louisville Library Makerspace work?
You must have a Louisville Library card in good standing (under $20 in fines) to use the Makerspace. Library cards are free with identification. Minors must have parent's or guardian's signature on their library card application, and a signed waiver to use the Makerspace.
Staff time is free. Learning to use the equipment is free. Your only potential cost is in materials, depending on the nature of your project.
How do I begin?
Although there are exceptions, generally people come to the Makerspace with an idea of what they want to make. They discover things on Etsy, Pinterest or other social media, or spot an item at a craft show or see a tshirt they like, and think "That would be perfect, if only it was
smaller
a different color
had _______'s name on it
featured my favorite photo
was engraved with grandma's famous recipe
was themed to my favorite fandom
or any other thing that would make it unique
Once you have an idea of what you want to make, it's best to make an appointment in the Makerspace to discuss your idea.  You're always welcome to walk in, but with a Book-a-Librarian appointment, we can guarantee you an hour of staff time to work on your project. The Makerspace is open during the same hours as the Library.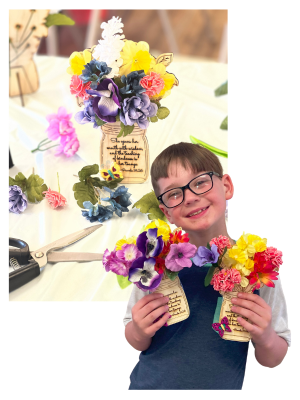 You'll discuss your project with the staff.  They may have suggestions to make the project better or easier or to increase your chances at success. Staff will also discuss with you the materials you'll need to make your project.
You may need to do some design work.  Staff will recommend what software to use, and can help you design your project in the Makerspace. Or, if you're comfortable with the software and have the technology at home, you can design at home.  The staff will work with you to increase the chances that your project will come out just the way you want it to.
What happens next?
Now you'll need supplies!  We do sell some materials in the Makerspace, at cost.  If we don't have what you need, we can suggest places to purchase it.  All materials must be approved by staff, for safety reasons and to maintain the equipment properly.
Once you have your materials gathered, you'll need another appointment to actually make your project. Again, walk-ins are welcome, but know that making an appointment means you are guaranteed access to the equipment you want, as well as staff time.  Book-a-Librarian appointments always take priority over walk-ins.
At this appointment, staff will help you use your designs, teach you how to use the equipment, and stand by to help as you make your project. Large, extensive or complex projects may require more than one appointment to complete.
Congratulations!  You're a Maker!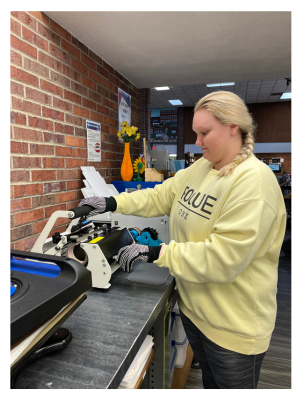 When you're done, you get bragging rights because you designed and made this wonderful thing!
Once you have completed a project on a piece of Makerspace equipment, you're free to use it on your own.  Appointments are best to reserve the equipment, but you are welcome to walk in as well.  Staff remains ready to help even experienced Makers at any time, with design work, equipment refreshers, and instruction on different machines.
Make an appointment or stop in for a tour of the Louisville Library Makerspace.  Then get those ideas flowing.
Call 330.587.5756 to make an appointment in the Makerspace.