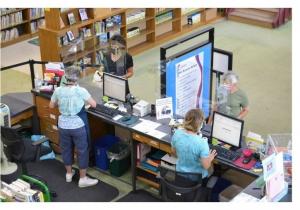 The Louisville Public library is joining the SEO Library Consortium, a "cooperative" of libraries all over the state of Ohio. Beginning on November 12, the Louisville Public Library and Rodman Public Library will be the 96th and 97th libraries to join this consortium.
The consortium boasts over 8 million items in its catalog, and you will have access to all of them. If you are used to placing holds with our current catalog, you are used to seeing items just from Louisville and Rodman. With SEO, not only will you see Louisville and Rodman, but you will also see items from 95 other libraries.
We are delighted to offer you better service while saving money, too! Using SEO, in 2021, the Louisville Public Library will save $8,000 and beginning in 2022, we will save $18,000 each year thereafter. That's money we can spend to buy more materials for you--and the cardholders of 96 other libraries--to enjoy.
Important dates:
October 12-29 - all items checked out will be due November 12

November 5 - Last day for placing holds for Louisville or Rodman items

November 6-11 - no placing any holds; we can only check items out, and you must have your physical card

November 12 - Go Live! Place holds, check in, check out via SEO

November - LPL will roll out a new mobile app

December 31 - all SearchOhio items must be returned