Request to use the Meeting Room for free!
Please see the Meeting Room Policy below. Individuals and groups can request to reserve the Meeting Room no sooner than 3 days from today, and no farther than one month from today.
Using the Meeting Room at 700 Lincoln Avenue
The Louisville Public Library has a meeting room for anyone in the community to use.
There is no fee for non-profit groups, community groups, or private citizens to use the room during normal library hours. Business users will be charged a fee.
You are welcome to use the Meeting Room as a walk-in within the next 3 days, if it is not in use.  Please call staff for information on when the Meeting Room is available in the next 3 days 330.875.1696, or use the search tool above.  Light blue coloring shows times when the meeting room is available.  Walk-in Meeting Room use is on a first-come, first-served basis.
All Meeting Room reservations must be approved by staff.
Library activities will be scheduled ahead of community requests.
Please click below for more information on fees, charges and rules of use. Call 330-875-1696 or use the search tool above to reserve the meeting room.
Features: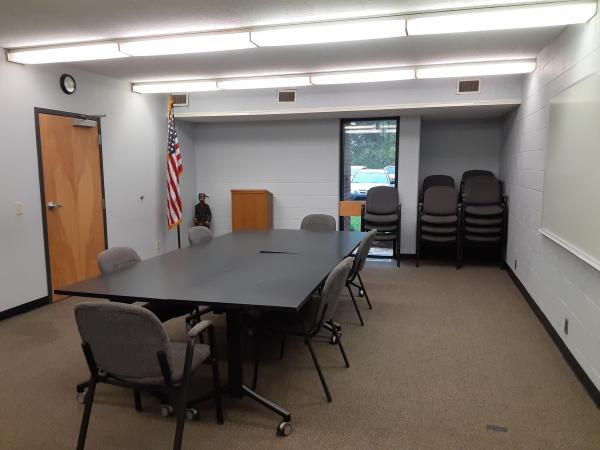 Private room located off the main floor of the library (handicapped access)

400 sq. ft.

Maximum occupancy: 28

Includes 4 six-foot table and chairs.

A/V equipment available on request. Please call 330-875-1696 for more information.

Free Wi-Fi for your devices

Drop-ins may use the room for group study, tutoring or unscheduled meetings pending availability.